Chelsea may be able to sign Victor Osimhen for less than Napoli's current asking price if they wait until next summer.
That is according to journalist Ben Jacobs, who has been speaking to GiveMeSport.
Victor Osimhen is one player who Chelsea are currently interested in as they consider bringing in a new striker.
However, a January deal looks quite tricky given the 24-year-old's importance to Napoli. In eight Serie A appearances this season, he has scored six goals.
Victor Osimhen could cost £100m next summer
According to Jacobs, Napoli president Aurelio De Laurentiis has always wanted around €150m (£131m) or €160m (£140m) for Osimhen.
However, the journalist has told GiveMeSport that the number is likely to be closer to £100m in the summer transfer window as the Nigerian's contract continues to run down.
On Osimhen, he said: "Aurelio De Laurentiis has always tried for about €150m or €160m and the reason for that is because he argues they paid Lille €80m for the player. And I'd say he argues that because the numbers are a bit contentious. It includes the payment upfront which was maybe €50m, plus bonuses, plus player swaps.
"That is how Napoli calculated the deal is worth €80m, and therefore De Laurentiis has always argued in the past because of Osimhen's form and I think he was eighth in the Ballon d'Or, they need double that number, which if they got it would be €160m.
MORE CHELSEA STORIES
"Flash forward to the summer, the number will be more like €120m in likelihood, which is about £100m and in the current market for a player like Osimhen, that is going to tempt quite a few clubs. Chelsea included."
Osimhen, who joined Napoli from Lille back in 2020, will be a free agent in 2025.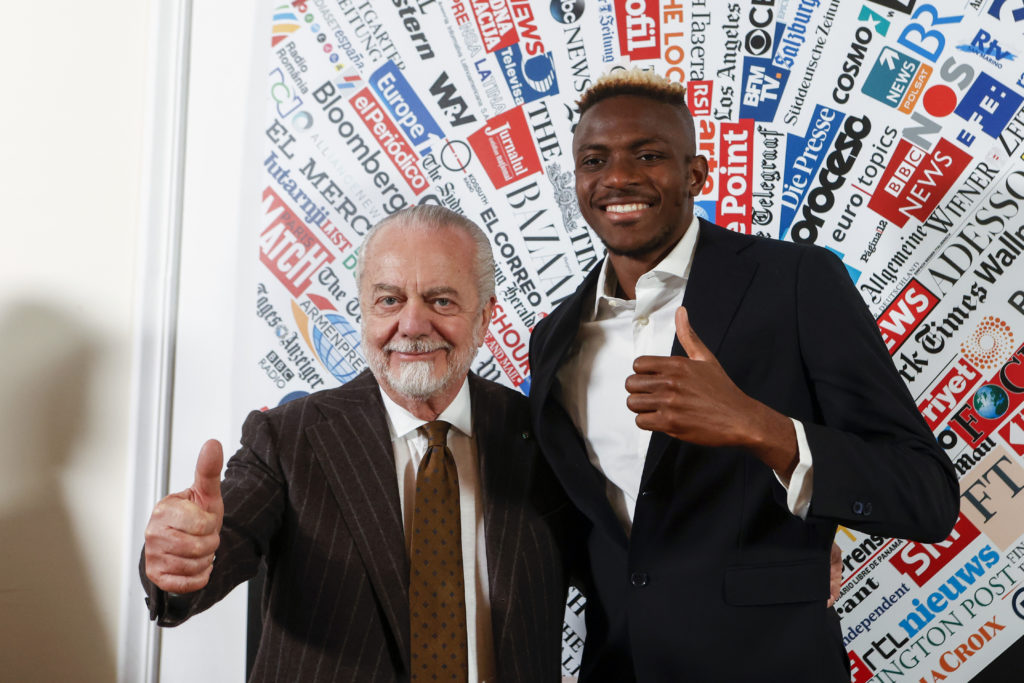 Is £100m a good deal for Victor Osimhen?
In this current market, absolutely. Midfielders are going for more and are not match-winners like Osimhen, who was recently hailed as a "world-class striker" by AS Monaco's Folarin Balogun in an interview with ESPN.
The Nigeria international scored 26 goals in 32 league appearances for Napoli last season. Not only did those goals help his side to win games, but it also led the club to their first Serie A title in 33 years.
That is where Chelsea want to get back to, winning the league title, and that is not going to happen if they do not have a prolific centre-forward.
Nicolas Jackson has had no trouble finding the back of the net in the Blues' last couple of matches, scoring once against Manchester City and three times versus Tottenham Hotspur.
If the 22-year-old can keep it up, then maybe he could be the answer for Mauricio Pochettino and Chelsea.
But if not, then the club will probably have to go out and buy someone like Osimhen.