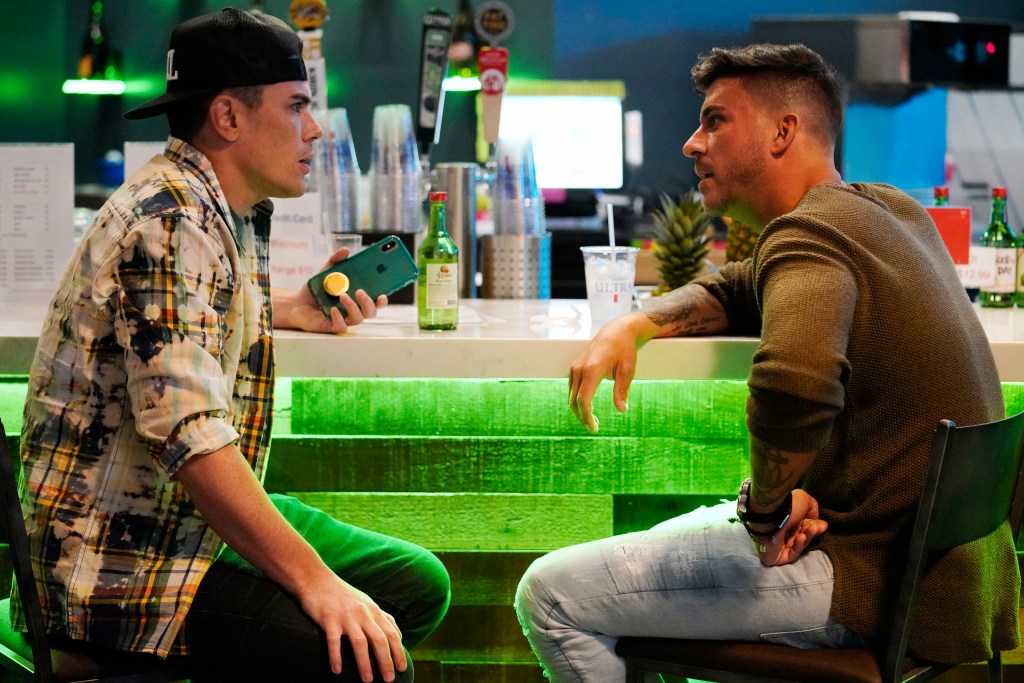 A Vanderpump Rules producer teased that we'd see a reconciliation between Tom Sandoval and Jax Taylor at a BravoCon panel earlier this month.
Brace yourselves for the heartwarming tale of Jax, the undisputed guru of forgiveness and personal growth, confirming that his past issues with Tom are now as inconsequential as his past criticisms of anything Scandoval-related.
Jax said he and Sandy had a productive chat while filming for Season 11. Is this really the dynamic duo we needed? There's definitely a joke about two narcissists walking into a bar here.
Jax and Tom had a "nice conversation"
Jax and his wife, Brittany Cartwright, recapped their BravoCon weekend on Friday's episode of their podcast, When Reality Hits. He said many attendees were asking him where he and Tom stand. Jax said there's been considerable progress.
He began, "People were asking me if I talked to Sandoval or if I hung out with Sandoval [at BravoCon]. I did. Like I said — I've gotten into this before — I feel like enough time has gone by to where we can kind of put this to bed."
Jax and Brittany have been on pause from Pump Rules since 2020. But, he makes an appearance next season. Jax revealed that he and Tom had a long heart-to-heart.
"I had a really, really nice conversation with him. What he went through though was life changing. I did talk to him. We had a really good conversation. We sat and talked for, like, two hours. … I just wanted to make sure that he was OK. I was checking in on him."
It sounds like it made for good TV. "I do film a scene with Sandoval. It's actually a very intense scene. It's not just with Sandoval either, it's with a couple of the other guys. It takes place in a pretty iconic spot and there were so many people there watching this scene too."
This "iconic spot" better be the SUR back alley!
Brittany's still skeptical of Sandoval
Brittany didn't seem as excited about the prospect of Sandoval rejoining their friend group and cautioned, "It's good you had conversations but you have to take it slow and make sure that people really change. It takes a long time to change. You know from experience. We'll see how this ends up."
Jax has no business being a judge of who's bettered themselves. But, he called Sandoval a "good person" and maintained his take.
"I think he's a good person. He's just gone through some things. Everybody makes mistakes in life. Everybody screws up in life. Yes, what he did is wrong. But I'm not gonna write the guy off."
Is "Kentucky Muffin" Brittany the voice of reason? There's still plenty of time before next season for Jax, Tom, or both to do something dumb. Brit could be on to something.
Vanderpump Rules returns to Bravo in January 2024.